Now that the calendar has turned another page and we are busy making New Year's resolutions, it's a perfect time to review our list of jewelry cleaning care tips. We give you our top six.
1. Don't Be Afraid to Clean Your Jewelry at Home!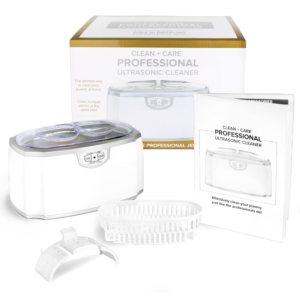 Keep you treasured jewelry clean with routine cleaning at home using professional jewelry care products from your professional jeweler. For best results, we recommend using a specialized liquid cleaning formulation and a professional polishing cloth. Cleaning jewelry is really a two-step process of cleaning and polishing, so get the tools you need.
2. But, Avoid These Old Wives' Tales
You have probably learned some jewelry cleaning tricks through the years from Mom, Grandma or even how-to websites. Unless they recommended professional jewelry cleaning products, it's probably best to steer clear of those tips. From toothpaste and vinegar to Mr. Clean, bleach and boiling water, most of these suggestions are either dangerous for your jewelry or just not effective. The old adage that is worth listening to: use the right tool for the job. Wise words indeed.
3. Do Get an Annual Inspection from Forsythe
Fine jewelry should be inspected annually by a professional jeweler. Forsythe Jewelers will inspect the piece for loose stones, structural damage or damaged prongs. If any weaknesses are identified, they can be repaired. Forsythe will also give the piece a professional cleaning using an ultrasonic, steam and buffing, which will leave it looking like new.
4. Tips for Jewelry Storage and Insurance
Store your jewelry in a container that keeps your pieces from rubbing against or hitting one another. Jewelry boxes are ideal, and it's best to wrap pieces in pouches or boxes inside of the larger jewelry box. You will definitely want to store your sterling silver jewelry in special bags or pouches to avoid exposure to elements that can cause tarnish. Anti-tarnish strips can also be placed in the container to further prevent tarnish.
Be sure to insure your valuable jewelry against loss or theft. Jewelry should be covered by your homeowner's or renter's insurance, but more high-dollar pieces may require a special rider. Keep a detailed inventory of your fine jewelry with photographs and written descriptions, which is very helpful in the event you need to file a police report or insurance claim.
5. Jewelry Care and Cleaning On-the-Go
When traveling, be sure to use a jewelry roll or container that keeps your pieces from bumping against one another. It's also a best practice to keep your jewelry in a carry-on rather than checked bag to discourage theft. If you're only traveling as far as the gym or pool, you'll still want to have some sort of container to keep your jewelry while you sweat or swim. Also, be sure to bring along jewelry cleaning products so you can keep up your cleaning routine. Jewelry cleaning sticks, wipes and polishing cloths are easy to pop into a purse, gym bag or luggage for cleaning on the go.
The Clean + Care Professional Ultrasonic Cleaner Kit is available at Forsythe Jewelers for $59.95.
~ The Kingswood Company

6. Get the Forsythe Jewelers Clean + Care Jewelry Cleaning Kit
Our Clean + Care Jewelry Cleaning Kit holds both a liquid cleaner and polishing cloth. The Gentle Jewelry cleaner is specially formulated to be safely used on porous stones, soft stones, enamel and treated gemstones. This all-purpose formula is ammonia-free with a lovely gardenia scent and is safe to use on a wide variety of jewelry, from beads and sterling silver to delicate pearls.
The Clean + Care Jewelry Cleaning Kit is available at Forsythe Jewelers for $15.95.