By Inna Kushnirski | Gabriel & Co.
Well it's that time of the year again where I round up the hottest bridal trends for 2022. Many are a continuation from 2021 but some new trends have emerged as well. Read below for the latest and greatest!
New Solitaires
Sure they've dominated for the past three years and there are many benefits to them, however the downside is having a ring that looks like what everyone else has. But actually solitaires need not be boring. Interesting baskets and a unique under-gallery can elevate a solitaire from simple to stunning. A row of diamonds at the base of the head or a filigree basket gives your solitaire a one-of-a-kind look that stands out from the rest.
Style#: ER15802R4W44JJ
Style#: ER15762R4W4JJJ
Hidden Halos
Step aside halo, your more modest cousin, the Hidden Halo, has come on the scene and is dominating the halo trend. Delicately wrapping underneath your center stone, hidden halos add a nice little touch of bling to elevate your side profile.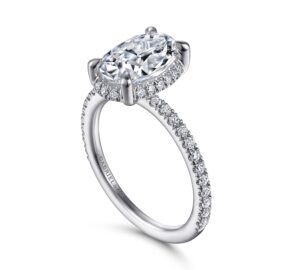 Style#: ER14719O8W44JJ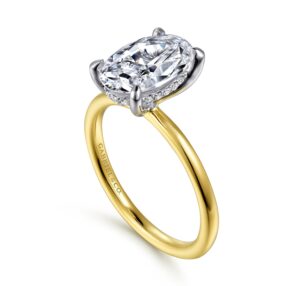 Style: ER15972O8M44JJ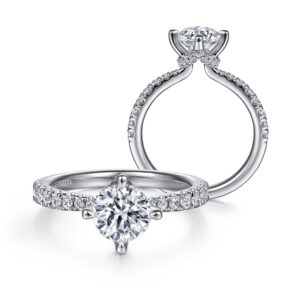 Style#: ER15756R4W44JJ
Intricate Galleries
Speaking of your side profile, intricate galleries are a great way to add a unique touch to your engagement ring. While classic engagement rings are certainly having a moment, those of us who appreciate stand-out details would love an interesting gallery which is the area that can be viewed when looking at the underside of your engagement ring. Beautiful florals, a diamond encrusted arch and filigree swirls are just 2 examples of the hidden surprises you'll find.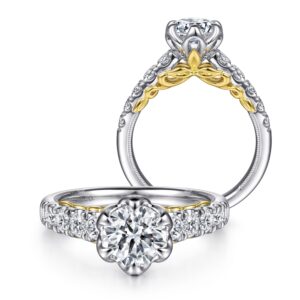 Style#: ER15774R4M44JJ
Style#: ER15773R4W44JJ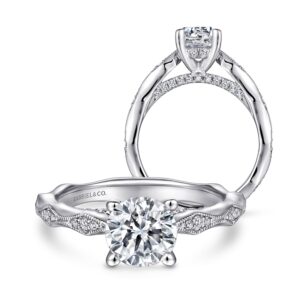 Style#: ER14427R4W44JJ
Three Stone Engagement Rings
Thanks to Megan Markle, the three stone trend continues to entice new brides everywhere. Side stones need not be boring as fun shapes such as trillions, pears, trapezoids and baguettes give your ring a unique flair. Oh and don't forget the whole Friendship, Fidelity and Love bonus.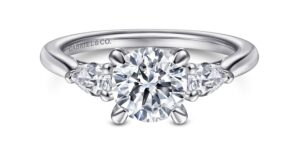 Style#: ER14794R4W44JJ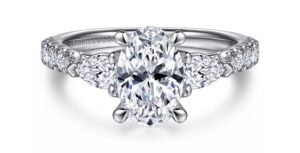 Style: ER15595O6W44JJ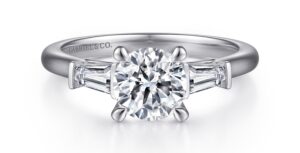 Style#: ER15591R4W43JJ
Floral Details
Love is in full bloom year round so why not have an engagement ring that incorporates the romantic details from nature such as flowers, vines and leaves. A floral halo, gallery or shank adds a delicate and feminine flair.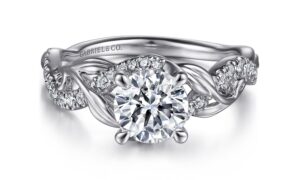 Style#: ER15759R4W44JJ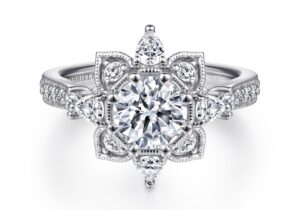 Style#: ER15783R4W44JJ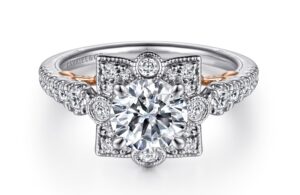 Style: ER15767R4T44JJ
Architectural Stunners
Rings inspired by architecture are a whole art form of their own. Bypass shanks, criss-crossing bands and wraparound prongs are details that make rings fit to display in the best museums.
Style#: ER15812R6M4JJJ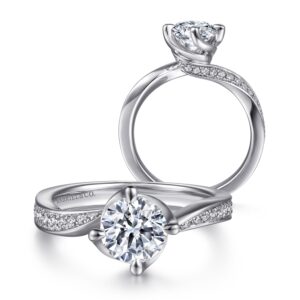 Style#: ER15766R4W44JJ
Chevron Stylings
The V silhouette has gained some serious momentum and ladies from near and far are loving this daring new look. For those who appreciate geometry and crave a unique style, this ring design is for you.
Style#: ER15798R4W44JJ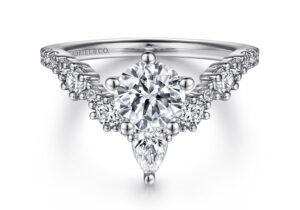 Style#: ER15797R4W44JJ
East West
Elongated center stones such as the oval, marquise and emerald don't have to follow the usual rules. Flip them horizontally and you have a unique look that redefines engagement.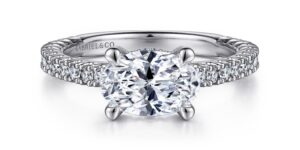 Style#: ER15621O6W44JJ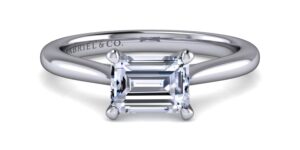 Style#: ER15618E6W4JJJ
Style#: ER14404M4W44JJ
Three Stone Cluster Rings
The traditional three stone is never out of style, and the new three stone cluster represents mini expressions of every day love. Fancy stones like pears mixed with rounds make for some serious side interest.
Style#: ER15782R4W44JJ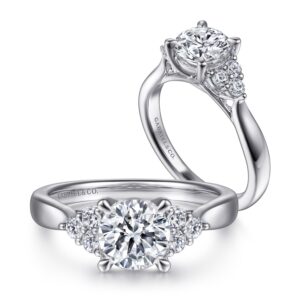 Style#: ER15771R4W44JJ
Alternative Engagement Rings
Who said diamonds are the only choice? We can have more than one best friend right? Meet your new something blue. Aquamarine engagements are not just for March birthdays. They're a great choice for those who appreciate the calming and tranquil effect of all things blue.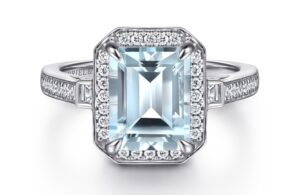 Style: ER915728W44JJ.CSAQ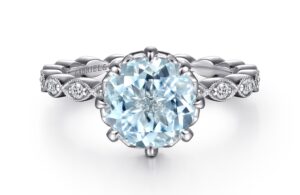 Style#: ER915735W44JJ.CSAQ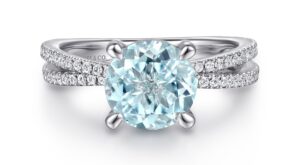 Style#: ER915734W44JJ.CSAQ
Single Prong Engagement Ring Bands
Sharing is caring and diamonds are no exception. Settings that incorporate stones that share a single prong have a dainty and feminine feel that is becoming highly coveted not only in engagement rings but in wedding and anniversary bands as well. Bonus points for stacking!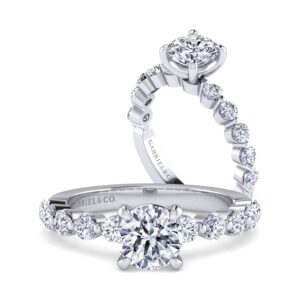 Style: ER16130R4W44JJ
Yellow Gold
An oldie but goodie and very much on the rise once again, yellow gold is the new black. This honey hue is flattering on all skin tones as well as any outfit.  And isn't yellow gold what we think of when we think of gold at all? Your grandma will approve, trust us.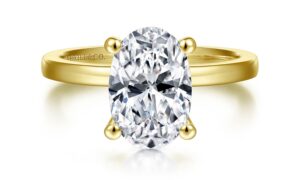 Style#: ER14982O8Y4JJJ
Style#: ER11747R4M44JJ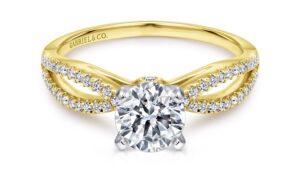 Style#: ER8129M44JJ
To view more on trend gorgeous settings browse the full collection at https://www.gabrielny.com/engagement-rings/all-settings